Zion Research has published a new report titled "PVC Market (Rigid PVC And Flexible PVC) by Application ( Pipes & Fittings, Wires & Cables, Films & Sheets, Bottles and Others) For Automotive, Electrical & Electronics, Construction, Packaging And Other End-User: Global Industry Perspective, Comprehensive Analysis, Size, Share, Growth, Segment, Trends and Forecast, 2015 – 2021". According to the report, global demand for PVC Market was valued at USD 57.06 billion in 2015 and is expected to reach USD 78.90 billion in 2021, growing at a CAGR of 5.6% between 2016 and 2021. In terms of volume, the global PVC Market stood at 43,662.0 kilotons in 2015.
PVC is a general purpose plastic commonly used in the construction sector, for example in window frames and shutters, pipe cabling and coating, etc. PVC can be clear or colored, rigid or flexible, depending on the added compounds and final application that needs to be achieved. PVC inherently possesses superior fire retarding properties due to its chlorine content, even in the absence of fire retardants.
Get sample report: https://www.zionmarketresearch.com/sample/pvc-market
By application, pipes & fittings segment is expected to dominate the market over the forecast period due to extensive use in construction industry. Currently pipes & fittings segment holds over 62% of market share in terms of revenue. Film & sheets are expected to exhibit impulse growth in the forecast period. The growth of this segment is mainly attributed to a positive outlook for specialty films coupled with growing usage of plastic films & sheets in agriculture.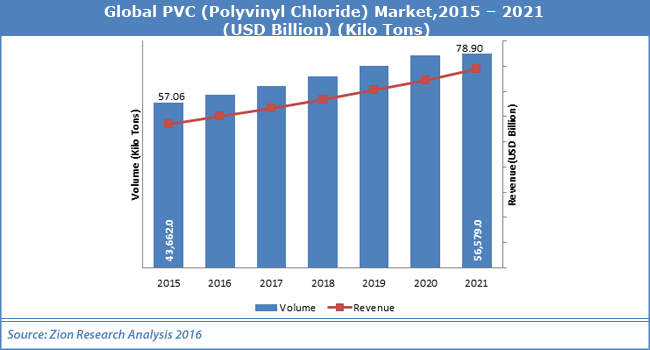 Generally, PVC found in two type, rigid polyvinyl chloride, and flexible polyvinyl chloride. Flexible PVC is used in electrical cable insulation plumbing, inflatable products, medical devices, and signage while the rigid PVC is used in various applications includes windows and door, and construction (in the form of pipes).
Construction emerged as the leading end-user segment and growth of this segment is mainly driven by significant growth of building & construction sector in Asia Pacific. Packaging segment is expected to exhibit impulse growth in the coming year due to rising demand from the food industry. Rising demand of PVC in electrical & electronics specially from China and Taiwan is expected to support the growth of PVC market in coming years.
Browse the full report at https://www.zionmarketresearch.com/report/pvc-market
Geographically, Asia Pacific is one of the largest markets with more than 52% of market share in term of volume and expected to show a good growth rate over a forecast period. This is due to high growth potential of building and construction industry, especially in China & India. The Middle East & Africa & Latin America is expected to be the fastest growing regional polyvinyl chloride market in coming years.
Some of the key company's operative in the global PVC Market include KEM one, Occidental Petroleum Corporation, Finolex, Formosa Plastics Group, Shin-Etsu Chemical Co. Ltd., Solvay S.A., Axiall Corporation and Ineos Chlorvinyls Ltd amongst others.
The report segments of global PVC (polyvinyl chloride) Market as follows:
Global Polyvinyl Chloride (PVC) Market: Application Segment Analysis
Pipes & fittings
Wires and cables
Film & sheets
Bottles
Others
Global Polyvinyl Chloride (PVC) Market: Type Segment Analysis
Rigid PVC (polyvinyl chloride)
Flexible PVC (polyvinyl chloride)
Global Polyvinyl Chloride (PVC) Market: End User Segment Analysis
Automotive
Electrical & electronics
Construction
Packaging
Others
Global Polyvinyl Chloride (PVC) Market: Regional Segment Analysis
North America
Europe
Asia Pacific
Latin America
The Middle East and Africa
Contact US:
Zion Market Research
4283, Express Lane,
Suite 634-143,
Sarasota, Florida 34249, United States
Tel: +49-322 210 92714
USA/Canada Toll-Free No.1-855-465-4651
Email: sales@zionmarketresearch.com
Website: http://www.zionmarketresearch.com