Zion Research has published a new report titled "Malic Acid (L-Malic, D-Malic and DL-Malic) Market for Food, Beverages, Confectionaries, Personal Care, Pharmaceutical and Other Applications: Global Industry Perspective, Comprehensive Analysis and Forecast, 2015 – 2021."According to the report, the global malic acid market stood, at 72.12 kilo tons in 2015 and is expected to reach at 96.83 kilo tons in 2021, growing at a CAGR of 4.3% between 2016 and 2021. In terms of revenue, the global demand for malic acidis expected to reach USD 220.0 million in 2021.
Malic acid is a crystalline compound present in unripe fruits. Malic acid is occurs in all living organisms. It has sour taste and is widely used as a food additive. It is available in crystalline form and is largely used as salt and esters. Malic acid is also known as malates. The basic function of malic acid is to monitor and maintain the pH level as well as it also helps to stop the growth of micro-organisms. It has extensive use in food and personal care industry.
Get sample report: https://www.zionmarketresearch.com/sample/malic-acid-market
The excessive growing demand for the convenience, processed food and confectionaries across the globe is a prime driving force of global malic acid market. Approval for malic acid by regulatory bodies such as FDA (the Food and Drug Administration), FSSAI (Food Safety and Standards Authority of India) and EFSA (European Food Safety Authority) is expected to grow the penetration of malic acid within the forecast period. However, volatility in raw material prices is expected to major restrain of global malic acid. Nonetheless, increasing use of malic acid in medical and personal care industries is likely to generate new opportunities for manufacturer of malic acid during the years to come.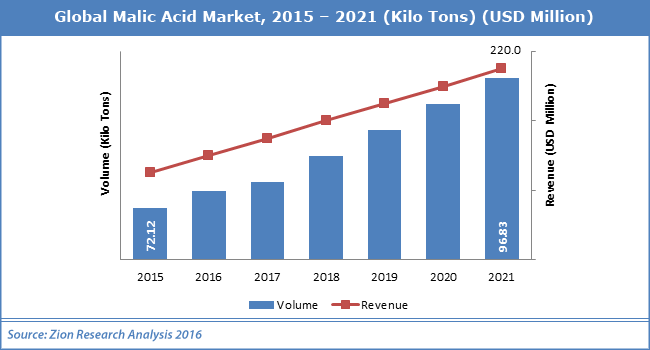 Based on type segment, the global malic acid market is bifurcated into L-malic acid, D-malic acid and DL-malic acid. Among all, L-malic acid dominated the global market of malic acid and it accounted for significant share of the entire volume consumption in 2015. Moreover, DL-malic acid is expected to fastest growing segment of global malic acid in near future. It has extensive range of applications and growing penetration of DL-malic acid in cosmetic and food industry is expected to facilitate the remarkable growth in global malic market within the forecast period.
The key applications of global malic acid market include food, beverages, confectionaries, personal care, pharmaceutical and others applications. Beverages held as foremost application segment of global malic acid market in 2015. It accounted for more than 50.0% share of the entire market and it is also expected to continue its dominance during the few next years. Confectionaries are a vital segment that is likely to have splendid growth in near future. This growth is attributes to increase in demand for chocolates and junk products in every corner of globe. Moreover, use of malic acid for treating skin disease and cancer is expected tobolster the demand of malic acid in coming years.
Browse the full report at https://www.zionmarketresearch.com/report/malic-acid-market
Among all regions, Asia Pacific was a leading market of global malic acid in 2015. It accounted for above 40.0% share of global malic acid market. Furthermore, presence of food industry and growing beverages industry especially in China, India, Malaysia and India is likely to register the highest growth with a strong CAGR within the forecast period. Furthermore, Europe and North America are expected to have significant growth over the years to come due to rising demand for flavored beverages in the regions. On other hand, Middle East and Latin America are projected to have significant growth for malic acid due to rising disposable income in Brazil and BRIC nations.
The global malic acid market is moderately fragmented and can offer new scope to the new entrants in near future. Some of the major player operative in global market of malic acid includes Thirumalai Chemicals Ltd, the Chemical Company, Novozymes, U.S. Chemicals LLC, Polynt, Prinova LLC,BartekIngredients Inc and FUSO Chemical Co. Ltd amongst others.
The report segments the global malic acid market into:
Malic Acid Market: Type Analysis
L-Malic Acid
D-Malic Acid
DL-Malic Acid
Malic Acid Market: Application Segment Analysis
Food
Beverages
Confectionaries
Personal Care
Pharmaceutical
Others
Malic Acid Market: Regional Segment Analysis
North America
Europe
Asia Pacific
Latin America
Middle East & Africa
Contact US:
Zion Market Research
4283, Express Lane,
Suite 634-143,
Sarasota, Florida 34249, United States
Tel: +49-322 210 92714
USA/Canada Toll Free No.1-855-465-4651
Email: sales@zionmarketresearch.com
Website: http://www.zionmarketresearch.com