Zion Research has published a new report titled "Rat Model Market By Type (Outbred, Conditioned, Knockout and Others) By Technology (Embryonic Stem Cells, Microinjection and Others) By Service (Breeding, Quarantine, Cryopreservation and Others) By Application (Toxicology, Oncology, CNS, Immunology and Inflammation, Diabetes and Other Diseases): Global Industry Perspective, Comprehensive Analysis and Forecast, 2015 – 2021." According to the report, the global rat model market accounted for USD 391.7 Million in 2015 and is expected to reach USD 684.4 Million by 2021, growing at a CAGR of around 9.7% between 2016 and 2021.
Rat model has been used  frequently in drug development, toxicology and various biomedical fields, including carcinogenicity testing. Ongoing research for development of treatment on neurology disorder and cancer coupled with emergence of transgenic rat models is expected to fuel the demand of rat models in coming years. In addition, advancement in bioinformatics that leads development of tools and software for analysis of data generated after pre-clinical research using rat models is anticipated to boost growth of this market in coming years. However, rising concern about animal cruelty, ethical concerns as well as threat from advancement of zebra fish models is expected to hinder growth of market in the forecast period.
Get sample report: https://www.zionmarketresearch.com/sample/rat-model-market
Outbred rat segment garnered majority of the market share in 2015. The extensive use of outbred rats in toxicology and safety assessment studies is expected to drive the growth of rat model in coming year. A knockout rat is a genetically engineered rat and increasing use of knockout rat for studying human gene function is a major driving factor to contribute to the growth of this segment. Conditioned rat type segment is expected to show moderate growth during the forecast period.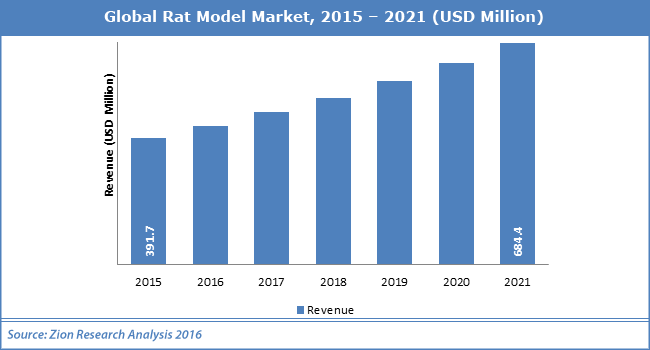 Embryonic stem cell is also one of the fastest growing technology segments due to rise in stem cell based research. Breeding services market held the largest share of this market in 2015. Moreover, cryopreservation service segment is expected to experience significant growth due to effective and low-cost way to backup live animal store lines that are not actively being used.
Toxicology emerged as a leading application segment in 2015. CNS segment is expected to be the fastest growing application segment and this growth is mainly driven by use of rat model to study CNS disorders like Alzheimer's and Parkinson's.
Browse the full report at https://www.zionmarketresearch.com/report/rat-model-market
North America was the dominating regional market for rat model and further it would follow this trend in forecast period due to robust research activities. Europe held the second largest market share and Germany acquired largest share in this region in 2015. Increasing number of academic and contract research organizations is the major driving factors of rat model in Asia Pacific region.
Somme of the prominent players in this market include Covance, Inc., Transviragen Inc., SAGE Labs, Biomedical Research Models, Inc., genOway S.A., Transposagen Biopharmaceuticals, Harlan Laboratories, Inc and Charles River Laboratories amongst others.
The report segments of the global rat model market are as follows:
Rat Model Market: Rat Type Segment Analysis
Outbred
Conditioned
Knockout
Others
Rat Model Market: Technology Segment Analysis
Embryonic Stem Cells
Microinjection
Others
Rat Model Market: Service Segment Analysis
Breeding
Quarantine
Cryopreservation
Others
Rat Model Market: Application Segment Analysis
Toxicology
CNS
Oncology
Immunology and inflammation
Diabetes
Others
 Rat Model Market: Regional Segment Analysis
North America
Europe
Asia Pacific
Latin America
Middle East & Africa
Contact US:
Zion Market Research
4283, Express Lane,
Suite 634-143,
Sarasota, Florida 34249, United States
Tel: +49-322 210 92714
USA/Canada Toll Free No.1-855-465-4651
Email: sales@zionmarketresearch.com
Website: http://www.zionmarketresearch.com